Welcome to Earthquake Prediction Research Center (EPRC)!

Updated Information


The presentation of Prof. Aydan and his collaborator received the best paper award at "The 13th Japan Symposium on Rock Mechanics & The 6th Japan Korea Joint Symposium" held in Okinawa on January 9-10, 2013. [
link
jpg: 440KB
] (January 28, 2013)

An article "Preseismic anomalous telluric current signals observed in Kozu-shima Island, Japan" being published on PNAS USA is introduced on some media websites. [
link
link
] (November 12, 2012)

A book entitled "The Frontier of Earthquake Prediction Studies (Ed. M. Hayakawa)" is published. [
link
in Japanese] (February 6, 2012)

The Daily Yomiuri asked Prof. Nagao a short comment on a large haul of squid before M9.0 Tohoku Earthquake [
link
] (May 5, 2011)

Recently Published Papers


Activation of hole charge carriers and generation of electromotive force in gabbro blocks subjected to nonuniform loading,
Journal of Geophysical Research Solid Earth, 118, 915-925 (2013)
.

Seismic velocity structure of the crust beneath the Aira caldera in Southern Kyushu by tomography of travel times of local earthquake data, Bulletin of the Volcanological Society of Japan, 57, 227-234 (2012). [
link
]

Preseismic anomalous telluric current signals observed in Kozu-shima Island, Japan,
Proceedings of the National Academy of Sciences of the United States of America, 109, 19125-19128 (2012)
.

Electric signals on and under the ground surface induced by seismic waves,
International Journal of Geophysics, 2012, 270809 (2012)
.

Variations of geoelectric potential differences associated with an anomalous volumetric strain change in the region of expected Tokai Earthquake, Japan,
Natural Hazards and the Earth System Sciences, 12, 121-127 (2012)
.

Electric and electromagnetic signals under, on, and above the ground surface at the arrival of seismic waves, In: Seismic Waves - Research and Analysis, 47-70 (2012). [
link
]

Underground electric signal at the occurrence of the Niigataken Chuetsu-oki Earthquake in 2007, Japan,
IEICE Transactions on Electronics, E95.C, 110-114 (2012).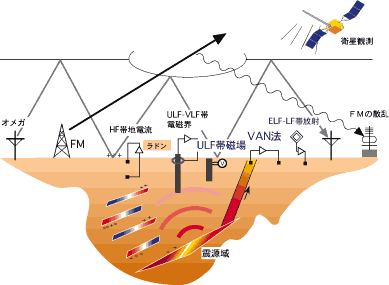 Please us your comments on this website.

~ MENU ~

History of EPRC

Members

What is Earthquake?

What is SEMS?

Down Under Meteorological Map

EMIOR Group

Electromagnetic ACROSS

To Research at EPRC

Links

Access

3-20-1 Orido, Shimizu-ku, Shizuoka 424-8610
Earthquake Prediction Research Center,
Institute of Ocean Research Development,
Tokai University
(Shimizu Campus, Building #1, Room #1412)
tel: +81-54-334-0411
url: http://www.sems-tokaiuniv.jp/EPRCE/